I. Horse riding
1. Rotating groups of 6-8 children;
2. Individual helmet, tightly fastened on the child's head to prevent injury; safety check of equipment for horse riding before leaving;
3. For a group of 6-8 children we provide 4-6 instructors. They take care of the children during the horse riding and provide their safety.
4. 40 minutes' walk with the horse.
II. Swimming pool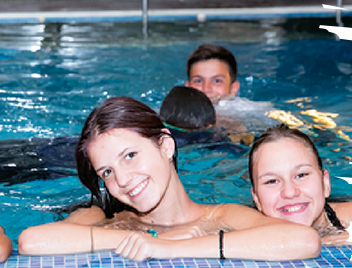 1. Indoor swimming pool;
2. Professional lifeguard present during the swimming sessions;
3. Accompanying teacher and animator, who monitor and take care of the children during the swimming session;
4. The swimming session at the indoor pool lasts one hour.
III. Mountain biking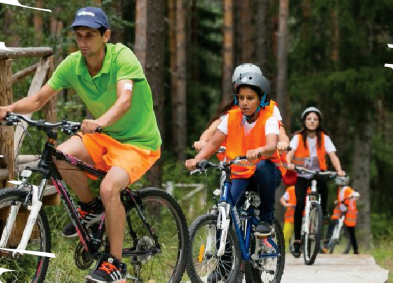 1. Experienced mountain instructors will train and care for the safety of the children from language school LuckyKids, while hiking the Rollban mountain path;
2. Every child will wear a safety helmet, which will be properly fastened before leaving;
3. Children will mountain bike only in the presence of and following the guidelines of the instructors.
IV. Daily excursions
1. During the excursions, the children from the English camp will be transported by aparthotel Lucky Bansko SPA & Relax buses, and all the traffic rules will be followed -individual safety belt for every child;
2. teachers/animators will accompany the children during the excursions to monitor, care for and keep the children safe;
3. Before hiking and picnicking, children will receive mountain safety instructions;
4. Before pool excursions, children will receive additional safety instructions.
V. Paintball
1. Children will receive initial safety instructions at the field;
2. All the children of summer camp LuckyKids receive face-protecting masks and vests for paintball games;
3. Please, keep in mind, that a hit from a paintball pellet may cause bruising.
VI. Day trip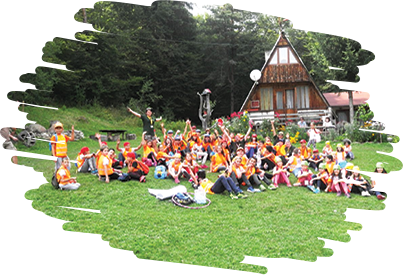 Once every 14-day shift the children visit an attraction of outstanding value in the region.
Visited so far: Dancing Bears Sanctuary – Belitsa town, the town of Melnik, Rozhen Monastery, Kovachevitsa and Leshten, the ancient fortress Nicopolis Ad Nestum.
Evening activities:
In LuckyKids green school children are engaged in wide range of entertainment from morning to night.
Every year there are various evening parties of attractive themes and necessarily educational element such as: Treasure hunt, Bingo night, evening of "Truth or Dare" Pillow Fight, Neon party, Night of the different nationalities, Gala evening and more.
This programme excites kids and adults equally. Hurry up and make your reservation for summer school LuckyKids, because spaces are limited.
SUMMER CAMP
From June 20 to September 5
Daily activities in the mountains
Teachers with native English
4 hours of interactive English language instruction